Surface Hardness:
HRC58-60
Chrome Layer Hardness:
Hv800-1000
Axis Straightness:
0.15mm/1000mm
Chrome Layer Thickness:
15μm ~ 25μm ( Customized)
Transport Package:
Paper Sleeve and Wooden Box
Specification:
dia 3-120mm
Company overview
Suzhou Weipeng Precision Machinery Co., Ltd. is located in Suzhou, which is a foreign trade oriented economic developed city, adjacent to international port city Shanghai. Established in 2009, we're a manufacturing company specialized in the production of piston rods and linear shafts.


     Quality  is  Life  of  Enterprise. Your  Satisfaction  is  Our  Goal.       
 
Main Products:

We offer the manufacturers of hydraulic and pneumatic cylinders a wide assortment of high quality tube and piston products.

Hard Chrome Plated Rod, Hydraulic Piston Rod, Cylinder Piston Rod, Chromium Rods, Hard Chrome Shaft, Induction Rod, Induction Shaft, etc.

Material: JIS S45C, SAE1045, DIN CK45

The hard chromium piston rods produced by our company come with more than JIS S45C material, where the rods first undergo precision milling and processing, and are then put through gard surface chromium treatment, allowing a surface precision level of f7, and a surface hardness reaching HV800 minimum and up, which not only help to improve wear resistance but also help to extend the life cycle of the rods, thus helping the customer save cost.

The corrosion resistances is tested in our own internal salt spray laboratory, and The rods surface heat treatment and hardness reaching HRC55°±2°, and at a hardened depth of between 0.5mm - 3mm, before the rods are put through precision milling and hard chromium treatment for a membrane thickness measuring 20 micron ± 10% to drastically improve the rod's wear resistance, and help to extend the life cycle of the rods.

The furnished products are ideal for a host of heavy machinery, construction equipment, and as position mount for a variety of heavy equipment.

Suzhou Weipeng products such as chromed steel bars and tubes are used in the fabrication of hydraulic and pneumatic cylinders found in agricultural machinery, Lifting Equipment, product handling equipment, garbage collection, heavy equipment, and many other applications.


Company Capability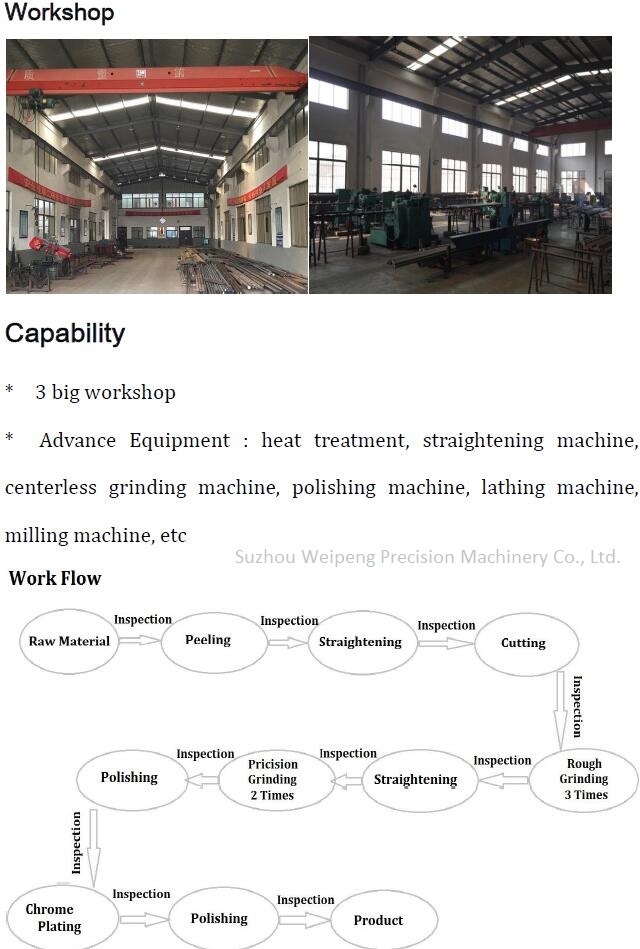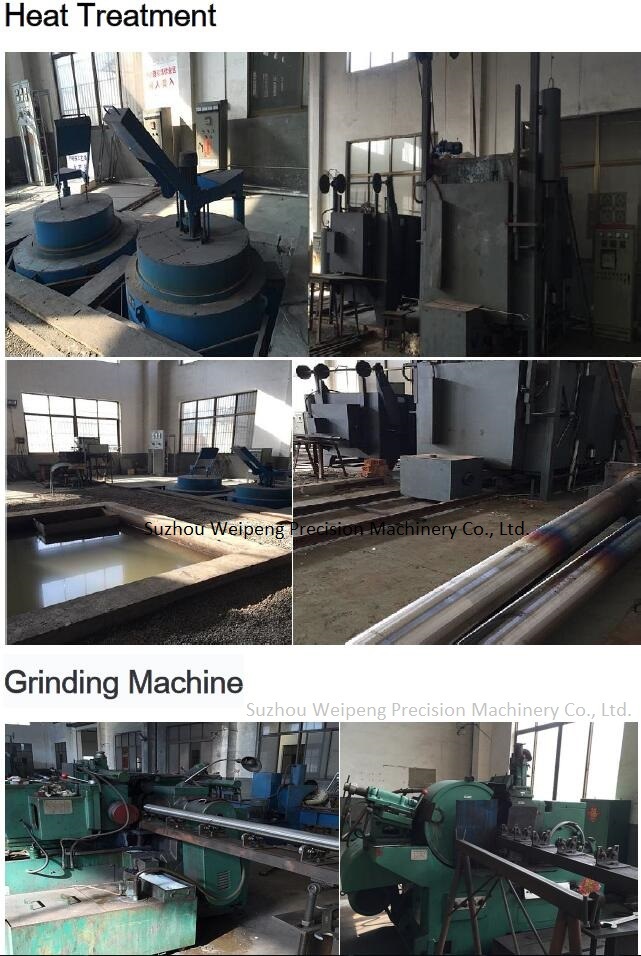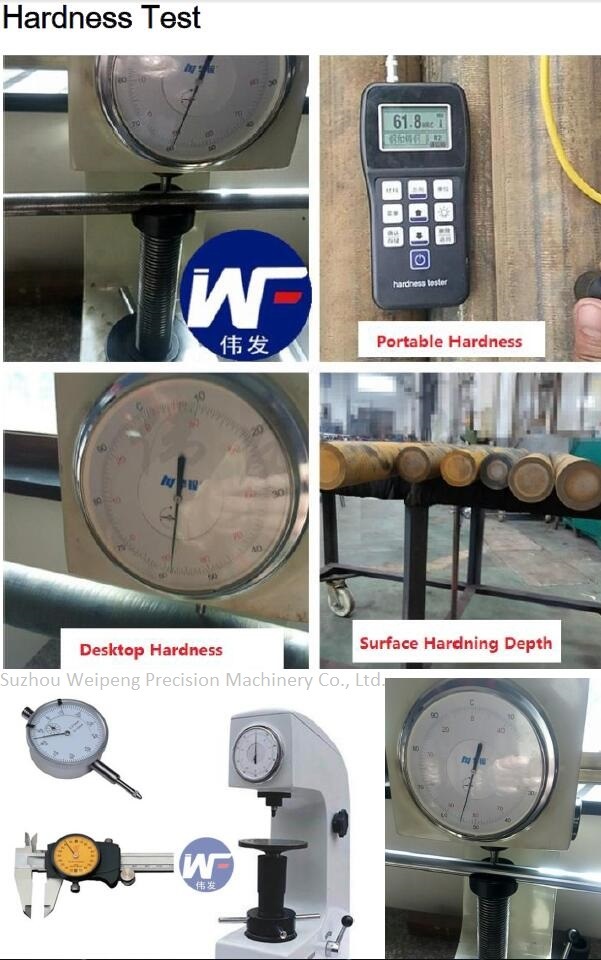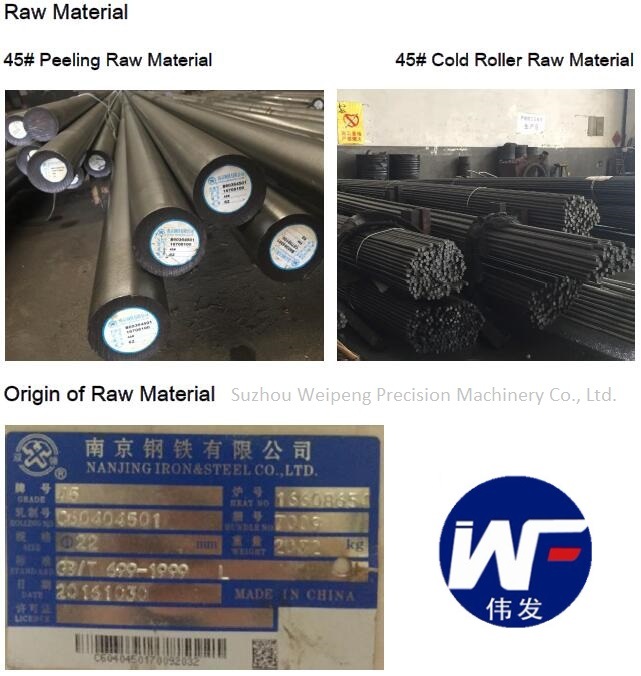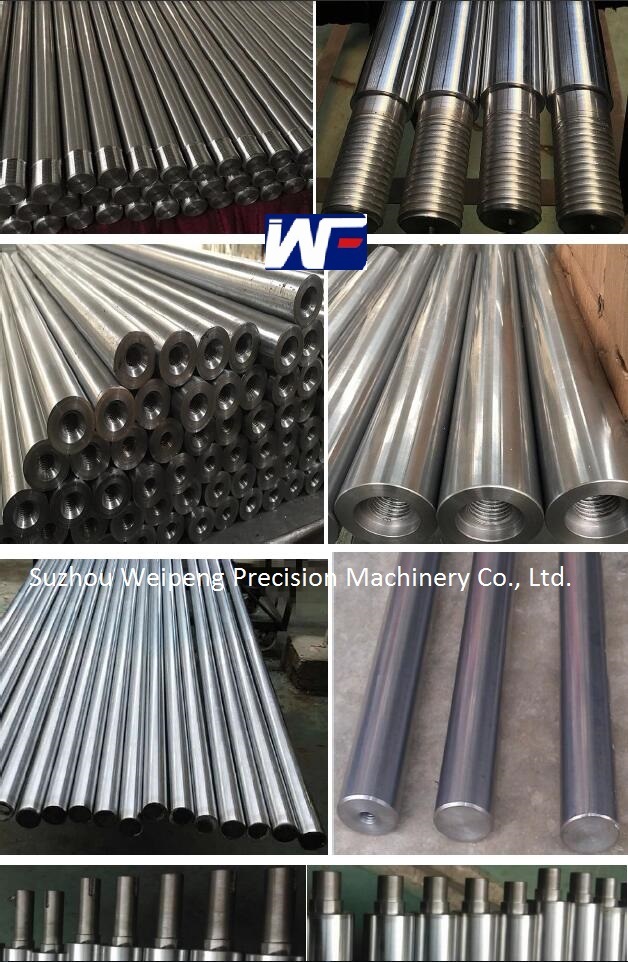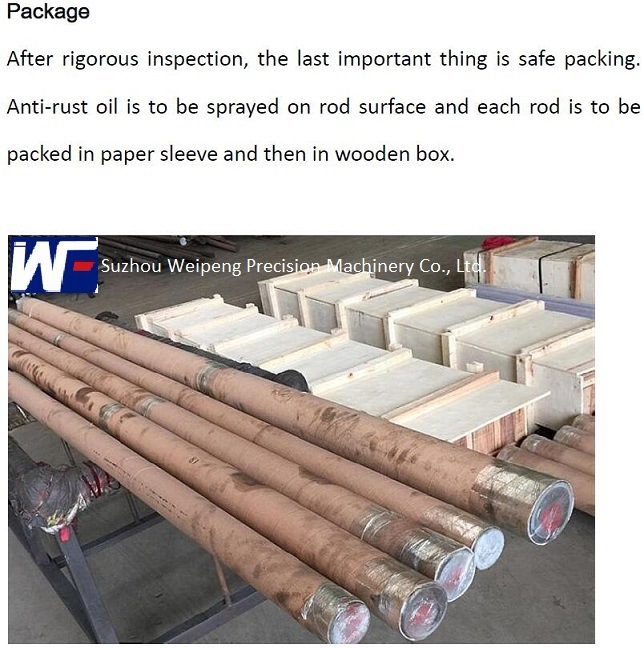 Our main product specifications are written below for your reference. Â If any interest, pls feel free to contact us.
1.
| | | |
| --- | --- | --- |
|  Item | Hard Chrome Plated Rod | Induction Hard Chrome Rod |
| Â Place of Origin | Â Jiangsu, China | Â Â Jiangsu, China |
|  Material  |  JIS S45C, SAE1045, DIN CK45 |  JIS S45C, SAE1045, DIN CK45 |
|  Length |  1000-6000mm |  1000-6000mm  |
| Â Shaft Diameter | Â 3-120mm | Â Â 3-120mm |
|  Surface Hardness |  without hardened or hardened |  HRC58-60 |
|  Chrome Layer Hardness |  above HV800 |  above HV800 |
|  Chrome Layer Thickness |  15μm ~ 25μm ( CUSTOMIZED) |   15μm ~ 25μm ( CUSTOMIZED) |
| Â Surface Hardning Depth | Â / | Â 0.8-3mm |
| Â Axis Straightness | Â 0.15mm /1000mm | Â 0.15mm /1000mm |
|  Roughness |  Ra 0.2μm~0.4μm |  Ra 0.2μm~0.6μm |
| Â Precision | Â G6/F7 | Â G6/F7 |
Chrome Plated Steel Bars:

Our Chrome Plated Bars are produced from medium carbon cold-finished or hot rolled steel bars usually in 1045 grades. The bars are centerless ground, polished, and chrome plated to a minimum thickness of 0.0005", and 0.001" per side. 
Chrome Plated bars are specifically designed to be used for most piston rod applications in hydraulic and pneumatic cylinders.

Induction Hardened Chrome Plated Bars:

Our  Induction Hardened Chrome Plated Bars are produced by using advanced processing techniques usually on JIS S45C, SAE1045 or DIN CK45 steel rods, for surface removal, polishing, induction hardening, followed by hard chrome plating to a thickness minimum of 0.0005" or 0.001" per side. The finished product results in a superior impact resistant bar ideal for high quality piston rods capable of handling tough environments.

Applications:

Hydraulic cylinder rods
Farm Equipment Machinery
Pin Stock for equipment attachments




2.
| | |
| --- | --- |
|  Item  |  Honed Tube |
|  Raw Material |  DIN ST52, SAE1020 |
|  Pressure & Temperatur Classification |  High pressure & temperature piping |
|  Inner Diameter |  40mm-320mm |
|  Outer Diameter |  50-400mm |
| Â Thickness | Â 5-40mm |
| Â Â Length | Â 7000mm |
|  Straightness |  Max 0.5/1000mm |
|   Inside Surface Roughness(Ra) |  0.2-0.4um |
|  Tolerance INT |  DIN2391 H8 |
Cold Drawn Seamless Mechanical Tubing (CDS)

is a cold drawn 1020 steel tube. Produced from piercing hot rolled bar stock, the cold drawing process increases the tube's physical properties reducing the cost of machine time. Cold drawn seamless tubing provides a better uniformed OD and ID, enhanced machinability, increased strength, and tighter tolerances compared to hot finish seamless products

Applications:
Hydraulic cylinders
Rollers
Structural applications
Truck and Automotive parts
Heavy equipment
Agricultural components
Auto and Truck Axles, Suspension parts and shock absorbers
High Speed Shafts and rollers
Bearings and Spacers, Roll cages, and many other machined tubular parts.
The raw material we use is the most famous brand in China, which has very high density and stability in the quality. Our products are hightly appreciated by our clients for their competitive price and good quality.


Wish You a Happy New Year.

 Applications: 

plastic injection molding machines, working servos, construction equipment, rubber molding machines, papermaking machines, printing machines, refrigeration equipment, foods and chemical machinery, loading equipment, fiber spinning equipment, agricultural equipment, automotives, shipbuilding and the like.



If you are interested in our company, please feel free to contact us:


SUZHOU WEIPENG PRECISION MACHINERY CO., LTD
ADD: No.98 Changjiang Road, National Hi-Tech District, 215010, Suzhou, P.R.C
Tel: 0086-512-68387269Â 
Fax: 0086-512-68387269
 http://www.wepauto.com
http://www.chromedbar.com
Specialized automobile 4s shops lifting platform is a kind of large tonnage car or truck repair and maintenance units commonly used special mechanical lifting equipment.
The lifting platform can be divided into upper cylinder lift and lower cylinder lift.
The oil cylinder of the upper oil cylinder Car Repair Lift is placed on the top of the column(with beam), and the oil cylinder of the lower oil cylinder Four Posts Car Lift Platform is placed on the side of the guide rail.
Private car lifts are also often used as great vehicles for moving cars between floors.
Main Features of Car Parking Lift:
1. Hydraulic driven,cable lifting system
2. Four points automatic safety locks,manual release
3. Maintenance free load bearing,assure the safety in any height
4. Unchangeable width between runways
6. 5T lifting capacity, double parking space
7. Safety locks in all posts for added safety
8. Single point lock release
9. Simple installation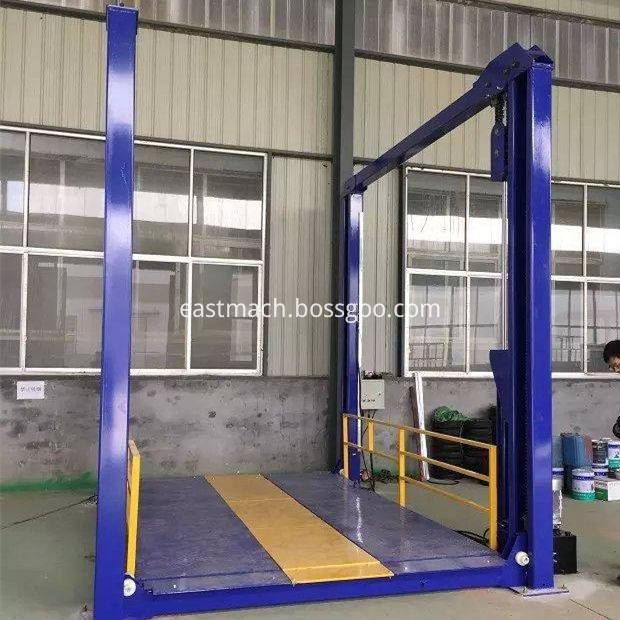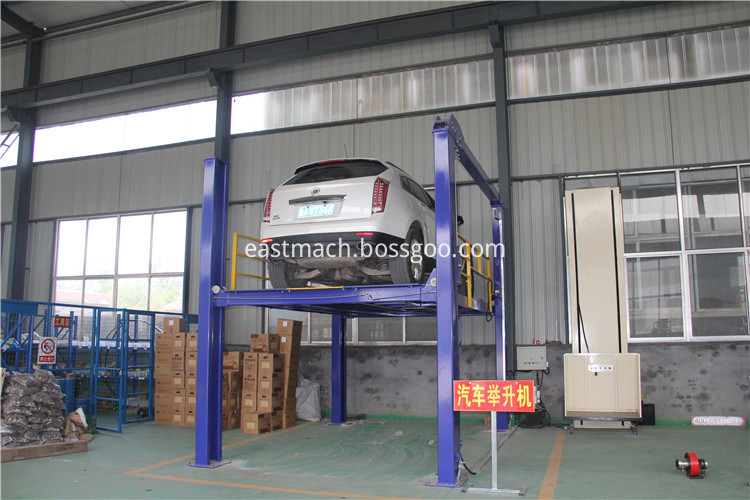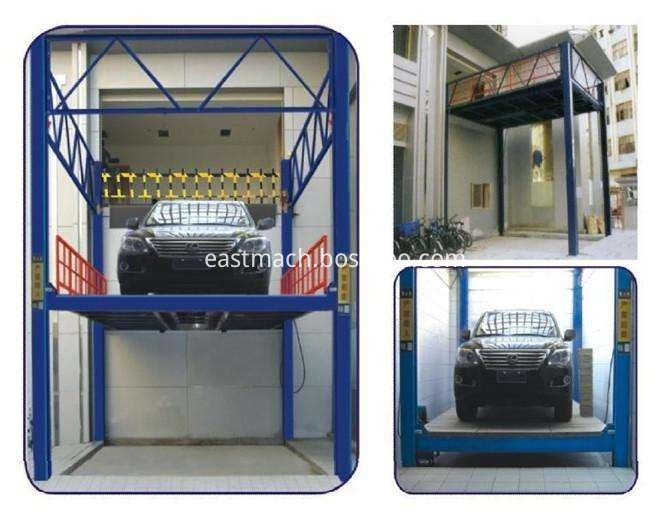 Application Area:
The Car Parking Lift is a new type of automobile lifting equipment, which is convenient, fast, safe and reliable for maintenance. It is widely used in car 4S shops, car repair shops, car showrooms and other places that need a safe and beautiful environment for lifting cars.
If you have any questions, please contact with us directly. Car Parking Lift are produced with High Quality and Good Appearance. Welcome you can visit our Factory. For inqury, Please send mail directly to us.
Car Parking Lift
Parking Lift,Car Parking Lift,Car Park Lift,Automotive Lifts
Jinan East Machinery Co.,Ltd. , https://www.jneastmach.com