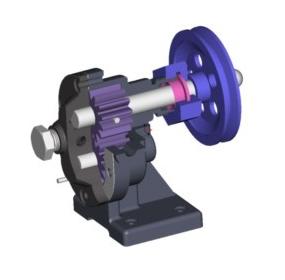 Recently, Shandong Yisheng Environmental Protection Equipment Co., Ltd. (hereinafter referred to as "Yisheng Environmental Protection") and the School of Thermal Energy Engineering of Shandong University of Architecture jointly established a production, research and research base, and the two sides will be specialized in LNG refueling stations, LNG gasification stations, LNG reserve stations, etc. Cooperation in the field of equipment was initiated. Prof. Tian Guansan, a well-known expert in the industry, and the relevant person in charge attended the unveiling ceremony.

On April 30, Yi Sheng environmental protection general manager, Step Hongfu received an interview with the Economic Herald, said that the company currently has a full range of low-temperature storage tanks, pumps, gasifiers, PLC control system and a full set of LNG refueling station system manufacturing and installation The company has become the first LNG assembly equipment supplier in the province. The LNG refueling stations produced by the company have been located in more than 10 regions such as Binzhou, Dezhou and Weifang in Shandong Province and 7 provinces in Henan, Hebei and Tianjin. Put into use.

Preferred fuel

"Because LNG vehicles are superior to conventional fuel vehicles in many performances, the LNG passenger car market has shown a rapid development trend in recent years, and domestic demand for LNG equipment has increased dramatically." Zhao Chuanwei, marketing manager of Yisheng Environmental Protection, said that according to estimates, the world The LNG trade volume has more than doubled in the past 12 years. It is currently being widely used in the fields of natural gas power generation, iron and steel, vehicle and ship power and other industries and transportation, and it has become a truly "Hong Kong" in the international oil and gas market.

LNG is liquid natural gas. Compared with traditional CNG (compressed natural gas), LNG has high energy density, strong endurance, and more energy-saving and environmental protection. At the same time, the LNG refueling station occupies less land and is more convenient for liquid transportation. The station is also not constrained by the natural gas pipeline network, and is recognized as the preferred fuel for large-scale long-distance trucks, buses and inland shipping in the future.

On April 24th, Shandong Provincial Department of Transportation promulgated the "Working Program for the Promotion and Application of Commercial Natural Gas Vehicles in Shandong Province (2014-2016)". It is clear that by the end of 2016, the development target for Shandong natural gas vehicles will be 20,000 for urban public transport vehicles. , accounting for 50% of similar vehicles; priority will be given to the approval of commercial natural gas vehicles, and based on the main flow and flow of Shandong passenger and cargo transportation, three LNG passenger transport lines will be built in Jinan-Qingdao, Jinan-Yantai and Weihai, Jinan-Jining and Heze. Demonstration line and three LNG cargo demonstration lines in Jinan-Qingdao, Linyi-Jinan, Liaocheng, and Rizhao-Binzhou.

Compared with the government's recognition of LNG vehicles, "too few filling stations" has always plagued many customers who want to purchase LNG vehicles.

According to the national plan, by the year 2020, the number of vehicle natural gas filling stations in the country will reach around 12,000, which is undoubtedly a good news for energy companies and major LNG vehicle manufacturers. To this end, the three major oil companies and major private companies have entered the field of LNG refueling stations, and look forward to a big cake. The problem of LNG refueling stations is expected to be solved. By then, LNG equipment industry will undoubtedly usher in the golden opportunity for development (1300.80, -2.10, -0.16%).

Accelerate layout

Li Yulong, director of the patent and technology development department of PetroChina China Ryukyu Engineering Co., Ltd., and executive director of the National Energy LNG Technology R&D Center, said that the LNG terminal project that has been completed and put into production in China in the first stage is basically led by a foreign EPC general contractor. Even if they completely purchase foreign technology and equipment, domestic LNG manufacturers can still make use of marginal profit, and there is no need to further use domestic technology and equipment to reduce costs.

Although a few domestic companies have developed large-scale natural gas liquefaction technologies, there is no industrial application experience.

It is understood that in 2012 Yisheng Environmental Protection decided to develop a complete set of LNG refueling stations based on the country's energy development and market development needs; in May 2013, the first LNG cryogenic storage tanks were certified by experts to pass the National Cryogenic Vessel Quality Supervision and Inspection Center. At the end of 2013, the company had the capability to manufacture and install a full range of LNG refueling stations such as cryogenic storage tanks, pump pumps, gas dispensers, PLC control systems, etc., becoming the first complete LNG refueling station system in Shandong Province. Homemade business. This year, the company decided to invest in building a new plant of 10,000 square meters in order to increase the production capacity of complete sets of equipment for LNG refueling stations.

Coincidentally, Shandong Huantai Group Solter installed as the largest LPG cylinder manufacturer in China. With its many years of operation and accumulation in the cylinder industry, it also began to enter the LNG equipment manufacturing industry. According to Qin Xiang, General Manager of Solter Assembly, the LNG cylinders produced by the company have passed the inspection of the national authoritative department and obtained the most stringent quality management system certification. At present, they have signed cooperation agreements with Shaanxi Automobile, Dongfeng, Dongfeng and CNHTC.

Helps save energy and reduce emissions

According to Zhao Chuanwei, as a kind of clean energy, LNG plays an important role in improving the energy structure, alleviating the pressure on coal transportation, reducing the emission of pollutants, and improving the atmosphere. It is widely used in large energy-saving and environment-friendly enterprises. In the increasingly serious situation of air pollution control, vigorously developing LNG vehicles is not only an effective solution to the energy crisis and automobile emissions, but also can promote the city's ecological environment protection and realize "green development".

It is understood that compared with the fuel vehicles, the nitrogen oxides of LNG vehicles can be reduced by 80%, carbon dioxide can be reduced by 24%, sulfur dioxide can be reduced by 90%, benzene, lead, dust and other pollutants can be reduced by 100%, PM2.5 emissions ratio Diesel vehicles are reduced by more than 90%.

At present, China has completed and put into production more than 50 natural gas liquefaction plants and 7 LNG receiving stations. It is expected that by the end of the "Twelfth Five-Year Plan", China's total LNG receiving capacity will exceed 60 million tons/year.
Friction And Wear Testing Machine
Friction And Wear Testing Machine,Wear Testing Equipment,Four Ball Friction Testing Machine,Friction And Wear Tester
Jinan Chenda Testing Machine Manufacturing Co., Ltd. , http://www.jncdtester.com