After introducing many Mercedes-Benz talents, Mercedes-Benz's passenger car business has greatly improved. In the commercial vehicle business, Daimler-Benz also began to use "outside the brain", and Netcom learned exclusively that Zhou Liang, former general manager of Nanjing Iveco, has already joined Daimler Greater China to head the commercial vehicle business. And Zhou Liang was originally replaced by Yang Junhu, executive vice president of Fujian Benz in Nanjing Iveco's position.
After Duan Jianjun became the executive vice president of sales and marketing for Beijing Benz Sales & Service Co., Ltd., Mercedes-Benz gradually integrated domestic and imported vehicles in the passenger vehicle sector, laying the foundation for rapid growth. Zhou Liang's joining also laid a sneak peek into the domestic and imported car channels of Mercedes-Benz integrated commercial vehicles?
In October 2007, after SAIC's integration of Nanjing Auto, Zhou Liang joined Italian Iveco as a representative of Italy to serve as general manager of Nanjing Iveco. This former student has studied in the UK, has operated overseas markets, and has had many commercial vehicles in China. Business work experience.
The data show that Zhou Liang was born in 1967. He graduated from Northwestern Polytechnical University in 1992 with a master's degree in engineering. He received a master's degree in management from Nanjing University of Science and Technology in 1999. He successively served as deputy director of Liuzhou Liujiang Auto Parts Factory and Liuzhou Liujiang Forging Factory. Director, Dongfeng Liuzhou Automobile Sales Department Director, Sales Company First Deputy General Manager, General Manager and Dongfeng Liuqi General Manager Assistant, Zhou Liang Independent was responsible for the construction of Guangxi Liuzhou Liujiang Forging Plant, the largest forging enterprise in Guangxi; The marketing system has increased the annual sales of Liuzhou Automobile's vehicles from 6,000 in 1997 to nearly 30,000. In July 2003, he was appointed as the deputy director of Beijing Auman Heavy-Duty Truck Factory. Since October 2007, he served as the general manager of Nanjing Edelco.
In the past six years or more, Zhou Liang was the head of Nanjing Iveco and rebuilt the system of Nanjing Iveco. Nanjing Iveco once relied too much on Iveco Lightbus. The market for light passengers was too small. In the face of Jiangling Transit, the situation was getting worse.
A few years ago, Iveco Lightbus was also comparable to Jiangling Transit, but by 2013, Jiangling Transit had accumulated sales of 68,059 vehicles in the domestic market, a year-on-year increase of 18.54%, and its market share had reached about 60% of the high-end light passenger market. The total sales volume of Nanjing Iveco was 42,000 vehicles, an increase of 4.98% year-on-year, and the growth rate was far below the industry average.
In Zhou Liang's tenure as General Manager of Nanjing Iveco in recent years, the company revived Yuejin Light Trucks and launched a transcendence of high-end light trucks. Currently, Iveco and Yuejin have two product platforms and a warm 360 service platform. The product line spans passenger cars, trucks, and cargo. Off-road vehicles, chassis and special vehicles, with more than 860 kinds of rich models, a total of nearly 300,000 light passengers and 1.6 million light-card users.
In Nanjing Iveco's sales of 140,000 vehicles in 2013, the proportion of light passengers has dropped to about 30%. Light trucks account for the bulk, and light trucks have a broader market in China.
After the introduction of BMW's Duan Jianjun and other sales professionals, the Mercedes-Benz passenger car business in China opened up a new phase. From January to April, cumulative sales of 89,496 units, compared with 61,681 units in the same period of last year, surged 45.1% year-on-year, an increase significantly ahead of BMW and Audi.
Unlike passenger cars, most of the commercial vehicle sector is monopolized by Chinese brands, and foreign brands occupy a small gap in the high-end market. Daimler hopes to open a gap in the Chinese market by using more local talent.
Daimler Greater China has concentrated its business in China, while China's commercial vehicle segment is mainly Beijing Futian Daimler. The company is jointly funded by Beiqi Foton, Daimler and Daimler Greater China Investment Co., Ltd. Formally operating in 2012, its factory is located in Huairou, Beijing. It mainly produces Futian Auman medium-sized and heavy-duty trucks and plans to produce heavy-duty Mercedes-Benz OM457 engines in the future.
Zhou Liang is no stranger to Beijing Futian Daimler. He once served as deputy director of its predecessor Beijing Auman Heavy-Duty Truck Plant. In 2013, Foton Daimler sold 105,000 Auman heavy trucks, compared to 82,000 in 2012. The number of vehicles grew by nearly 30%, and the market share reached 15%. It also quickly formed profitability. However, it ranked fourth in the domestic market with Dongfeng, FAW Jiefang and China National Heavy Duty Truck. This obviously cannot meet Daimler and Futian. The ambition of the person.
It seems that the burden on Zhou Liang is not light.
Application Function: measurement for oxygen, crystallization for measuring carbon content, measuring low carbon content under the carbon oxygen balance principle,calculation and measurement of acid soluble aluminum
Molten Iron Sampler is made of fiber which is high quality and high temperature resistance. It is dedicated to collect metal liquid from furnace or ladle for chemical analysis. The sampler could be resistant to extreme cold and hot and there will be no cracks, which means that it can be used repeatedly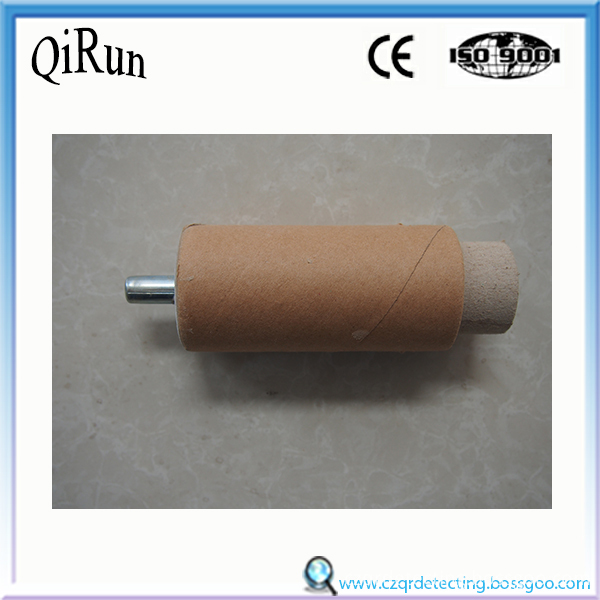 Immersion Molten Copper Sampler
Immersion Molten Copper Sampler,Round Shape Cup Molten Copper Sampler,Round Immersion Molten Copper Sampler
Cangzhou Qirun Detecting Instrument Co., Ltd. , http://www.qrdetecting.com