Applicable Casing:
7 Inch
Max. Od of Rigid Body:
150 Mm
Seating Anchor Load:
60 Kn
Upper Connection (Box):
2-7/8"
Upper Connection (Pin):
2-7/8"
Transport Package:
Wooden Box
Torque Anchor is a simple and reliable subsurface tool  for preventing tubing back-off when using progressing cavity (PC) pumps. It transfers PC pump torque to the casing walls.
The bypass capability of it is second to none. In most configurations, it offers greater than 95% of the potential bypass available past a similarly sized EUE coupling.
Additionally, because it remains centralized there are no limits to pump size.
Torque anchor also has the unique ability for 3/4 inch coil tubing to bypass the anchor smoothly regardless of orientation within the tubing.
Torque Anchor uses wedge shaped anchoring blocks which bite into the casing wall when right hand torque is generated in the tubing string. These anchoring blocks are spring loaded so that transfer of torque to the casing is immediate (clockwise) and the tubing string may be freely rotated to the left (counter-clockwise).

 
Applications
T

ubing back-off for progressing cavity pump applications

Deep wells and  horizontal wells

Heavy oil situations

Anchoring with maximum bypass requirements


 
Features &Â Benefits
Robust, reliable design

Spring-loaded anchor blocks

Simple to use

Provides maximum bypass

Easily to redress, extending tool life
Running Procedure
The running procedure of the anchor is straightforward. The anchor is installed below the pump and can be run in and out of the well freely. When the anchor has reached the required depth, the application of approximately 300ft-lbs right hand torque, will securely engage the anchoring blocks to the casing wall. The setting torque may now be locked in and the pump operation started.
To disengage the anchor, simply stop the pump operation and relax initial setting torque.
5 1/2 x 2 7/8 EUE Pin*Box
This Torque Anchor has been developed to provide extra bypass between the casing and torque anchor. The extra bypass will allow for unrestricted flow and will avoid sand bridging around the tool.
For 5Â 1/2" (139.7 mm) Casing

 

Tool OD -Â 4.25" (108.0 mm)

Tool IDÂ Â - 2.00" (62.0 mm)

Tool Length -Â 24" (609.6 mm)

Connections -Â 2 7/8 EUE (73.0 EUE)

Shipping Weight -Â 13.6 kg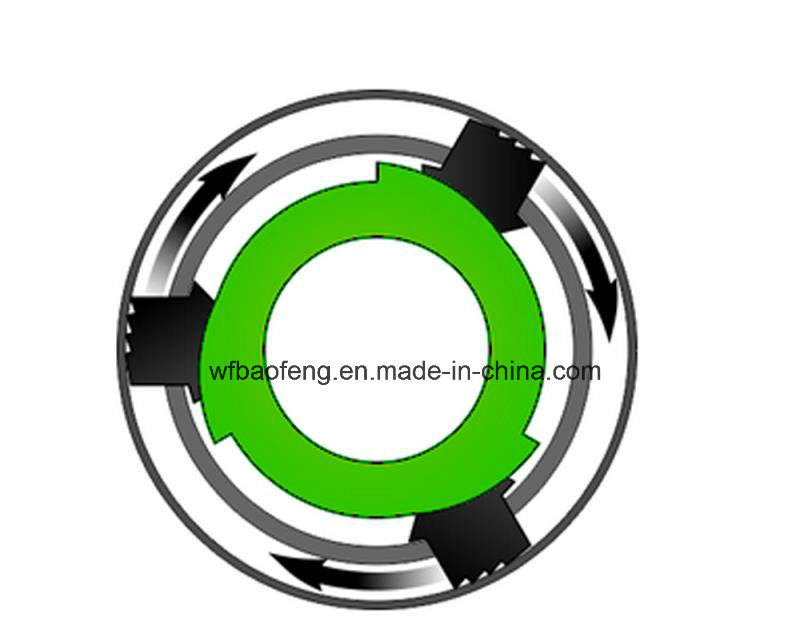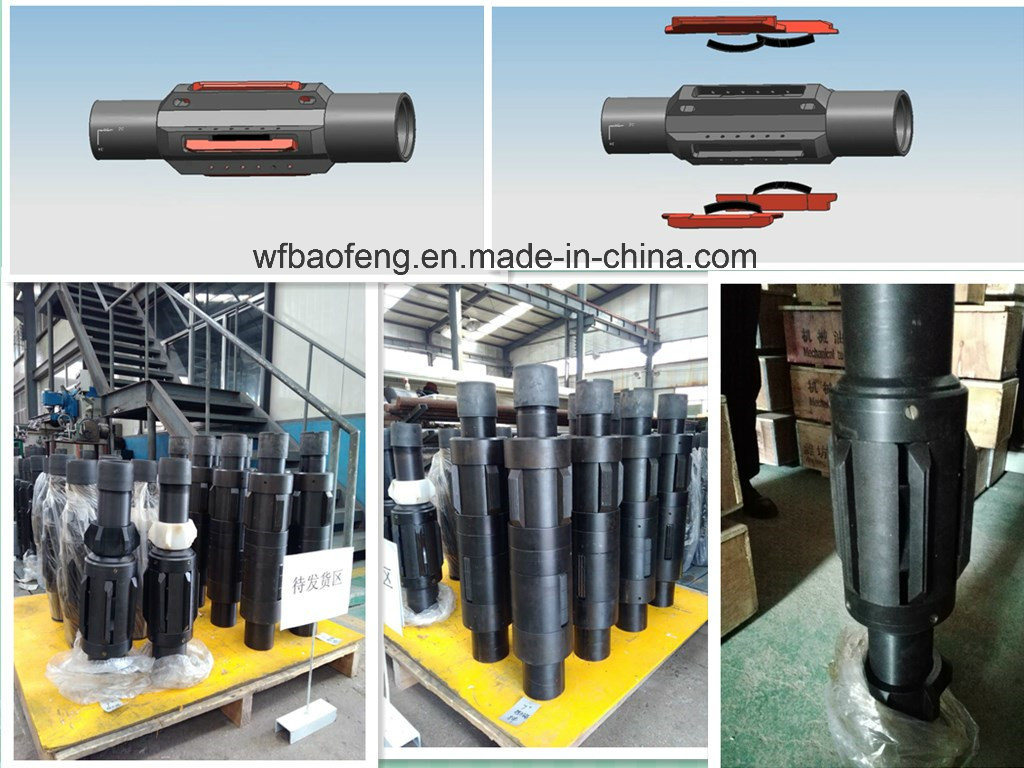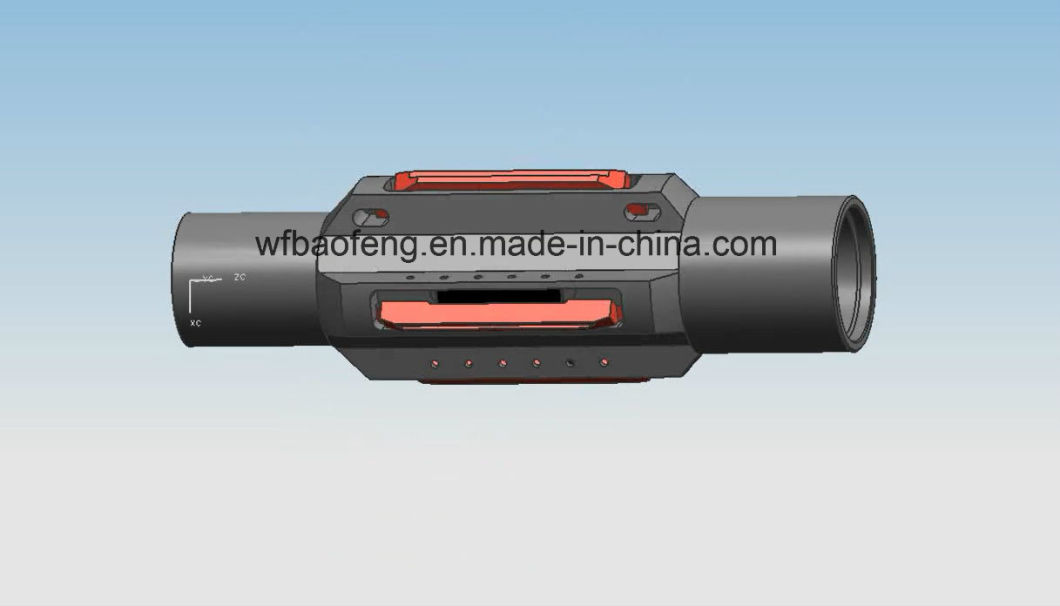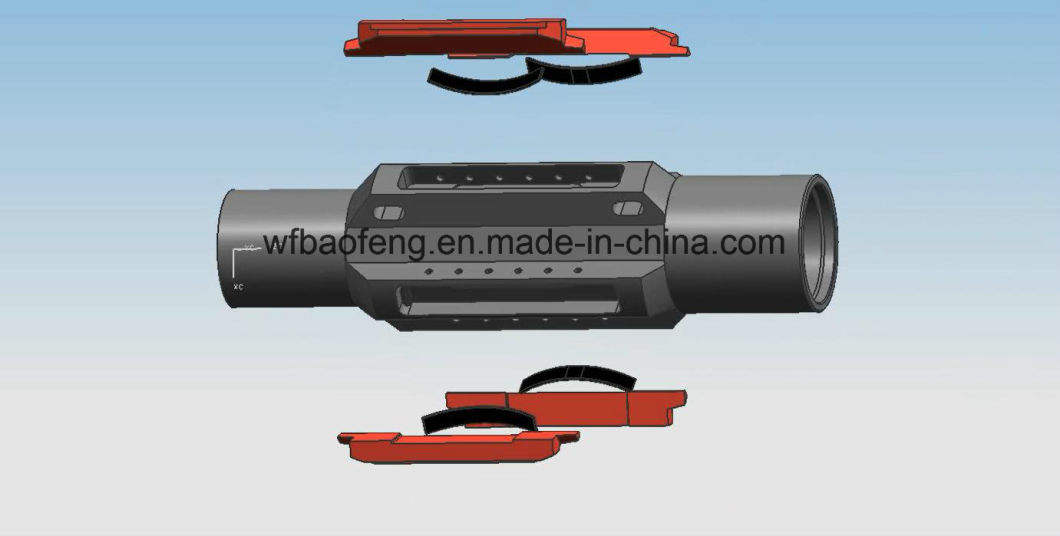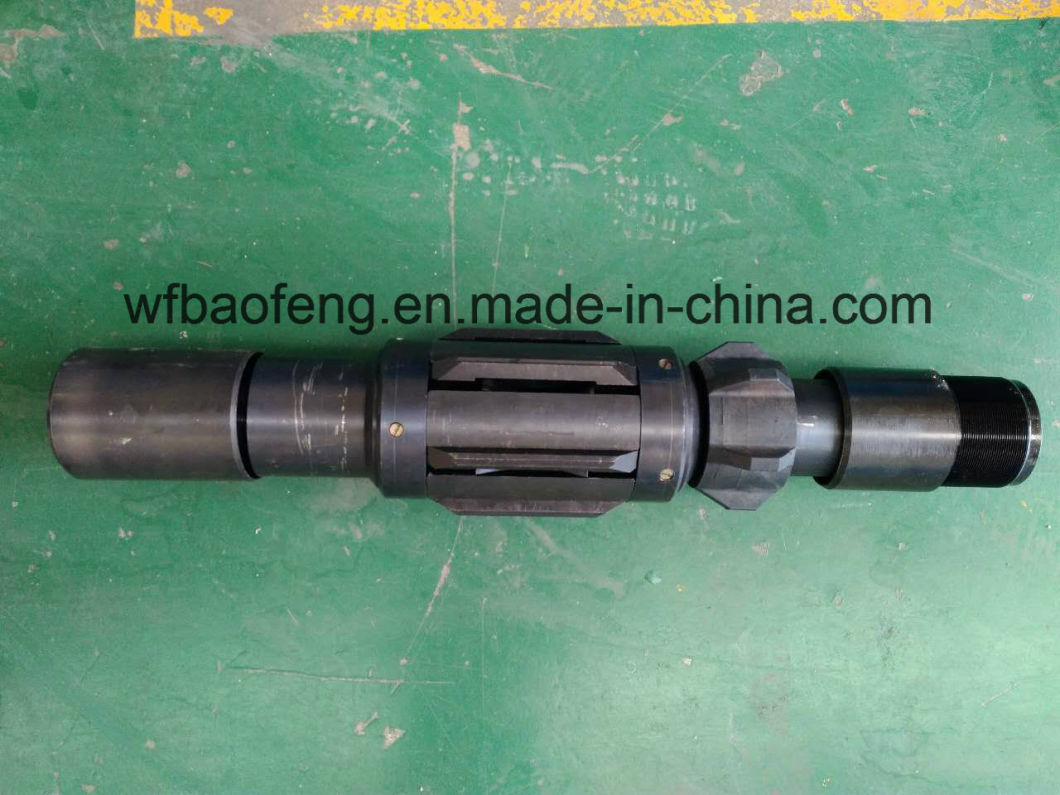 Company Introduction:
Weifang Baofeng Machinery Co., Ltd. was founded in September, 2006 with registered capital of one hundred and two million. It is a newly-developing private enterprise, producing and selling machinery and it integrates a variety of machinery such as petroleum machinery, agricultural machinery and mining machinery. It is Provincial Safety Production Unit, Municipal Standardized Advanced Enterprise and Municipal Contract-Credit Enterprise.
Our company covers an area of 15000 square meters, office and production area occupies 5000 square meters. The company consists of one office and seven divisions: Technical research and development division, quality checking division, production division, purchasing division, marketing division, technical service division and financial division. Now there are 2Â workshops and 30 service workers, including 3Â managers, 2Â engineering technicians and 5Â marketing staff. The company owns over 80 sets of screw pump production equipment, four sets of screw pump and ground drive testing equipment. In 2008, the company passed ISO9001-2008 Quality System Certification, ISO14001: 2004 Environmental Management System Certification and OHSAS18001: 2007 Occupational Health and Safety Management System Certification.
Since foundation, our company is mainly engaged in development, production and marketing for screw pump oil production system. With complete processing equipment, scientific management system, and strong technical force and advanced technology, the company has formed and produced more than 50 kinds of screw pumps: From GLB20 to GLB3000, from conventional screw pump to high temperature screw pump, form single head screw pump to multi-head screw pump, from conventional screw pump to equal thickness screw pump, from ground drive screw pump to down-hole drive screw pump, from oil production screw pump to CBM special screw pump. They have been promoted and applied in Shengli Oilfield, Daqing Oilfield, Huabei Oilfield, Jilin Oilfield, Dagang Oilfield, Henan Oilfield, Xinjiang Oilfield, Inner Mongolia Oilfield, Kazakhstan Oilfield and Oman Oilfield, and gain praise from domestic and foreign users. 
Contact Information:
Tel:Â +86 0536-8663518
Web:www.wfbaofeng.com
 
 
 
 
G80 Rigging Hardware is the very strong serie we have for you specially!
These hardware are mostly used in heavy industry,especially for everywhere needs lifting equipments or hoist equipments.
You can find contecting links,safety Hooks,sling hooks.and so on here,none of these are of poor quality owing to our strict QC and unmatched resource-channels.
And please don't bargain too much,after all the price is the thing you care now,however after your purchasing the quality & service would come first for sure.
We offer reasonable,that's how we keep great quality!
G80 Rigging Hardware
G80 Rigging Hardware,Standard Rigging Hardware,Binders Rigging Hardware,Alloy Steel Rigging Hardware
WINNERLIFTING INDUSTRY & TRADING CO.,LTD. , https://www.winnerlifting.com