The Belgian Sid consulted on S&A Water Chiller site for CW-3000 & CW-5000 water chillers to be used in cooling the 100W X-ray imaging projector. The ambient temperature would be approximately 21℃, and the target water temperature would be 15-35℃.
S&A CW-3000 heat dissipating chiller has a heat dissipating capacity of 50W/℃ that is insufficient to meet Sid`s cooling requirement. However, S&A CW-5000 chiller is a cooled type with a cooling capacity of 800W. An analysis of the performance curve graph showed that it can meet Sid`s cooling requirement.
Sid was also concerned about the possible generation of condensed water due to change of the room temperature when seasons shifted. In fact, for Sid, there is nothing to worry about. All cooled chillers of S&A Water Chiller are provided in two temperature control modes: constant temperature mode and intelligent temperature control mode (which does not require manual adjustment of the temperature control parameters. Instead, it will automatically adjust the temperature with the changing room temperature to ensure that the cooling requirements of the equipment are met). On this account, generation of condensed water can be avoided only by adjusting the temperature control mode of the chiller to the intelligent temperature control mode.
Thank you so much for your support and trust in S&A. All S&A water chillers have passed the certification of ISO, CE, RoHS and REACH, and the warranty period has been extended to 2 years. Our products are worthy of your trust!
S&A has a perfect laboratory test system to simulate the use environment of water chillers, conduct high-temperature test and improve quality continuously, aiming to make you use at ease; and S&A has a complete material purchasing ecological system and adopts the mode of mass production, with annual output of 60000 units as a guarantee for your confidence in us
The technical parameter of CW-5000: http://Products/ChillerCW5000800Wcoo.html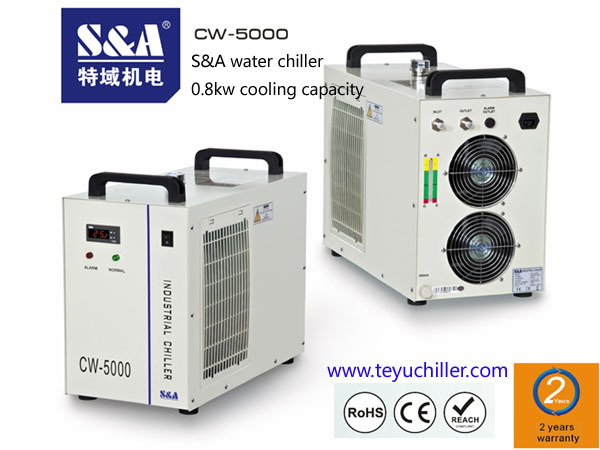 CONTACT S&A
TE:+86-20-89301885
FAX:+86-20-84309967
SKYPE: teyuchiller
Email:
Website: http://
Element Struction
FPM seal ring ensure the air-tightness between filter head and filter element, to achieve a positive filtration Effect.
Double stainless steel support layer to ensure the fulter element strength, deep bed Multi-wrap borosilicate glass microfibre large flow passage prevent high pressure drop.
With 96% porosity high dirt holding capacity, lifespan up to 6000 to 8000 hours. The general differential pressure is 0.17~0.25 kg/cm, less than 0.65kg/cm.
The element cover is made of PA+GF, free from deformation at 1.8Mpa pressure and high temperature of 240℃ and capable of resisting general acid and alkali chemical corrosion and withstanding the severe compressed air environment.
Special material for the outer layer of filter element, with strong hydrophobic and oilphobic, prevent the oil or water being blown away and received drying and filtering effect.
Industrial Air Filter Cartridges,Industrial Water Filter Cartridge,Compressed Air Filter Element,Activated Carbon Filter Cartridge
Hongrijia Depurate Facility Science & Technology Co.,Ltd. , https://www.yukafilter.com